Click here
for Julia's upcoming speaking engagements
on
Lady Byron & Her Daughters.
---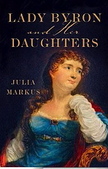 Lady Byron in an astonishing, new light! Julia Markus has pulled the covers off Lady Byron's marriage to the infamous Lord Byron. What she has discovered, and shares with us in this thoroughly documented and beautifully illustrated biography, is a fascinating woman: a complex human being, the single mother of Ada Lovelace pioneer of computer science and the adoptive mother of unfortunate Medora Leigh, Lord Byron's daughter by his sister. An unacknowledged progressive force who Harriet Beecher Stowe said did more for her society than any other person of her times, Lady Byron is now being brought from the spite of Lord Byron's poetry to the clear light of day.
---
Three cheers! for
Lady Byron and Her Daughters (a W.W. Norton & Company publication)
Endorsements & Reviews:
"A spirited, scholarly defense of Lord Byron's onetime wife, Annabella. Countering the condescending or insulting depictions of Lady Byron by her ex-husband's biographers, this capacious account reveals a woman of "prodigious philanthropy"...With this formidable biography, Markus restores a "misunderstood yet difficult woman of genius" from generations of derision and neglect."
Publisher's Weekly.
"A lively story of an aggrieved wife fleeing an impulsive Regency romance, which became a massive scandal in 19th-century England...A literary biographer with a light, mellifluous touch underscores the precarious position of women in 19th-century English society. "
Kirkus Review
"Anyone interested in the life of Byron and of the women closest to him will be fascinated by Julia Markus's groundbreaking biography." - Rodanthi-Rosa Florou, President,
Messolonghi Byron Society
, Joint Secretary of the
International Association of Byron
"What a lively and captivating story! Julia Markus's reappraisal of Byron's much-maligned wife shows a talented, generous woman who played a vital role in the life of her times." —
Lynne Sharon Schwartz
, author of
The Writing on the Wall
"It is Julia Markus's peculiar gift to rescue great 'lesser lives' of the English Romantic period from undeserved oblivion… To the delight of her devoted readership, Markus has done it again…the book is a treat from start to finish." —
Vivian Gornick
, author of
The Odd Woman and the City
"Julia Markus paints a fascinating portrait of a woman who lived an enormously useful life—rich in detail, brilliantly researched, witty, and insightful." —
Miriam Levine
, author of
Devotion: A Memoir
"I feel as if I'm getting acquainted with Lady Byron for the first time. Julia Markus's interpretation is engaging, accessible, and compassionate." —
Peter Graham
, author of
Don Juan and Regency England

"No one tells a story like Julia Markus… A joy to read and often hilariously funny, the book brilliantly braids together literature, history, and psychology." —
Patricia Cronin
, author of
Harriet Hosmer: Lost and Found, A Catalogue Raisonné

"A genuine contribution to Byron studies… Markus brings perspective to Lady Byron's scandalous marriage, to her relationship with daughter Ada, computer science pioneer, to luminaries such as Charles Babbage, Walter Scott, Queen Victoria, as well as to escaped American slaves… A refreshing portrait of a talented human being complete with her accomplishments and disappointments." —
Arnold Anthony Schmidt
, author of
Byron and the Rhetoric of Italian Nationalism

"Cheers to Julia Markus for rescuing Lady Byron from two centuries of ignominy. She portrays her fascinating cast of characters and their era with style and verve." —
Alix Kates Shulman
, author of
To Love What Is: A Marriage Transformed