UPCOMING ENGAGEMENTS:
​
This season Julia is teaching her graduate and undergraduate classes at
Hofstra University
while working hard on a new writing project. She was asked to and served on the Events Committee for the
2017 Biographers International Conference (BIO)
held this year in Boston, at Emerson College, 20-21 May.
There, she was Moderator of "Keeping it in the Family. Writing about Family Matters," and directed a workshop on "Writing your first Biography."
​Julia will be a judge for BIO's
Plutarch Prize for best biography
published in 2017. Winner to be announced on May 20, 2018.
---
---
​
ABOUT:Lectures & Appearances
: Julia speaks regularly on topics of interest and expertise. Recently, she had the honor of being selected to present the
Eleventh Leslie A. Marchand Lecture at Fordham University
on the publication of "Lady Byron and her Daughters, " October 2015. She was an invited speaker at
Oxford University on the 200th anniversary of Ada Lovelace's birth
--10 December 1815-- and spoke of the heralded computer pioneer's conflicted relationship with Lady Bryon, the single mother who raised her and Lord Byron, the seductive father, who abandoned her, but wrote beautiful poetry to reel her in. While in the UK she also spoke on "Marriage, Regency Style" at the
International English/Italian Byron Society
in Bath and was invited to speak at the
London Byron Society's Christmas lunch,
East India Club
on the same block as
Ada Lovelace's townhouse
.
​
In the UK the year before she spoke at the University of Manchester on how, 30 years after their ill-fated marriage, and 22 years after Lord Byron's death, Lady Byron "time traveled" on Elizabeth Barrett and Robert Browning's secret honeymoon trip to Italy. And in Tbilisi, Georgia at the
International Byron Conference
she spoke for the first time of Walter Scott's fascination with Lady Byron. (See Julia's Blog for more information).
​Back in the States, she read from her biography and had a Q&A as part of the
​Great Writers/ Great Readers Series at Hofstra University
. To start out 2016, she addressed the
New York Society Library
, and spoke at
Bryant Library
and was the invited speaker at the
Association of Literary Scholars, Critics, and Writers
Annual Literary Evening held in New York this May. Then, in California, Silicon Valley, Julia and Paul Douglass, author of "Lady Caroline Lamb," had a series of conversations about the interconnected lives of Lady Caroline, Lady Byron and Lady Byron's daughter, the computer pioneer Ada, Countess of Lovelace, both at
San Jose State University
and at
Books Inc. at Mountain View
. Mountain View is also the home of the fascinating Computer History Museum where an exhibit featuring Ada and Lady Byron are on display for a year.
Soon after, she was an invited speaker at the
Biographers International Conference
in Richmond Virginia, speaking on the Duel Biography Panel. She also spoke and listened at a fascinating round table about Women and Biography.
Ada, the Countess of Lovelace, now lauded as a computer pioneer, is of special interest to Julia, and she spoke of her not only at Oxford but at an Ada Lovelace Conference held at Steven's Institute of Technology in 2014. That year she spoke at Drew University as well on the inevitable demise of the art of letter writing and the changes it will mean not only for the biographer, but for the contemporary novelist. And at the Book Revue at Huntington, NY she spoke on the similarities between fiction and non fiction. See Press below.

Update!
From Arkansas to Manhattan, from dogs her size to big dogs, Molly is always having fun.
​​Current Projects:
This summer Julia will continue work on what she calls her non-fiction novel. In Connecticut by Candlewood Lake she will have time for new writing as well as the time to explore the lives of other vital women of note whose accomplishments have been left unsung. Last, but certainly not least, she will be enjoying time with Molly Mae-- a mini-schnauzer/mini-dachshund mix-- who arrived last summer from Arkansas and has settled in wonderfully to her forever home.
Educational background:
Julia holds a Ph,D in Victorian Literature, University of Maryland and an MA and BA in Comparative Literature from Boston University where she later received Boston University's Distinguished Alumna Award.
Further Awards & Work:
She received the Houghton Mifflin Literary Award for her first novel, UNCLE. She has won a National Endowment for the Arts grant and two National Endowment for the Humanities grants and is a professor of English and of Creative Writing and is the
Director of Creative Writing at Hofstra University.
She is on the advisory board of the
Drew University Library
in New Jersey and on the Board of Directors of the
Byron Society of America
. Recently she has been a Visiting Fellow at
Harris Manchester College, Oxford University.
---
---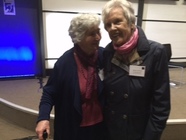 Two of the remaining 9 women from Bletchley Park who did so much anonymous code-breaking during the Second World War. "That they came to Oxford during the celebration of Ada Lovelace was so moving that I did something atypical - I asked them for permission to take their picture. I also informed them I never take pictures, but that I admire all that they did. Okay, I admit it. I had tears in my eyes." -J.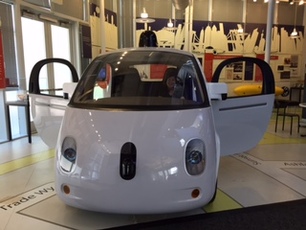 Julia on the driver's side of a driverless car at the Computer History Museum, Mountainview, CA. The future is now.
---

​"When I was a Visiting Fellow at Oxford University researching Lady Byron, some of the women students asked me to join their "Stitch and Bitch' circle. I replied that tho I could bitch with the best of them, I could not stitch a stitch.. Happy to see that lack of stitching ability didn't discourage the editors of
Smart Bitches
from celebrating Lady Byron" -J.
BOOK REVIEW Lady Byron and Her Daughters by Julia Markus
Lady Byron and Her Daughters is a fantastic feminist biography of Byron's wife, Annabella (Anne Isabella Milbanke). Annabella is usually remembered as the estranged wife of Lord Byron and the controlling mother of Ada Lovelace. This biography paints a more well-rounded picture of a woman who has often been portrayed as prudish and controlling, and points out her many contributions to education and philanthropy.

Annabella encountered Byron during the midst of "Byromania" (her phrase).
..
(click here to read the full review)
---
---
PRESS:
Julia's lecture on Lady Byron, held at The New York Society Library on February 18th, was followed by a wonderfully pithy Q & A. Unfortunately the podcast is difficult to hear but you can find it on this link: https://www.nysoclib.org/events/julia-markus-lady-byron-and-her-daughters

Fordham Romanticism Group Celebrates the Lives of Lady Byron and Ada Lovelace, On October 16, the Fordham Romanticism Group and the Byron Society of America co-sponsored a talk by Julia Markus, author of Lady Byron and Her Daughters (Norton, 2015). Markus, a writer of three novels and four book-length biographies, detailed Ada Lovelace's relationship with her parents, the intelligent and complex Lady Byron and the often indifferent and unavailable Lord Byron. Markus examined… (read the full article)

Female First. 21 things we didn't know about Lady Byron by Julia Markus: That Lady Byron was a brilliant human being (1792-1860) not the stereotypical demon Lord Byron turned her into in his later poetry. (For 20 more little known facts, click here).

2015 Ada Lovelace Bicentennial Events & Books, U.K. and U.S.: Dr. Julia Markus, professor of English at Hofstra University, has a new book, "Lady Byron and Her Daughters" (W. W. Norton & Company), coming out on October 13, 2015. The book is a startling re-evaluation of Lady Byron's complex life as single mother and progressive force. (FindingAda.com community forum)

Biography by Julia Markus to be Published on Ada Lovelace Bicentenary: Dr. Julia Markus, professor of English and a core faculty member of Hofstra's MFA in Creative Writing program, will see the publication of her new book, Lady Byron and Her Daughters (W. W. Norton & Company), on October 13, 2015, – a date that will be commemorated around the globe as Ada Lovelace Day, in honor of the 19th century female science and technology pioneer who was the daughter of Lord and Lady Byron. (full article)

Poets & Writers - Hofstra University Presents Julia Markus. (more)

Is letter writing dead?: Julia Markus will be talking about this at Drew University's celebration of the Byron Collection on April 12th. (learn more)

English Profs. Alice Levine and Julia Markus to present at National Byron Conference. (read article)

One of Hofstra's Own Great Writers Leads Book Revue Workshop.
---
| | |
| --- | --- |
| | "Ada, putting aside her childish ways, entering both society and matrimony. " LADY BYRON AND HER DAUGHTERS |