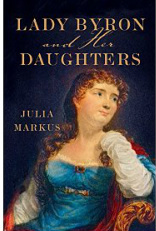 "A lively story of an aggrieved wife fleeing an impulsive Regency romance, which became a massive scandal in 19th-century England...A literary biographer with a light, mellifluous touch underscores the precarious position of women in 19th-century English society. "
Kirkus Review
"It is Julia Markus's peculiar gift to rescue great 'lesser lives' of the English Romantic period from undeserved oblivion… To the delight of her devoted readership, Markus has done it again…the book is a treat from start to finish." —
Vivian Gornick
, author of
The Odd Woman and the City
"No one tells a story like Julia Markus… A joy to read and often hilariously funny, the book brilliantly braids together literature, history, and psychology." —
Patricia Cronin
"A genuine contribution to Byron studies… Markus brings perspective to Lady Byron's scandalous marriage, to her relationship with daughter Ada, computer science pioneer, to luminaries such as Charles Babbage, Walter Scott, Queen Victoria, as well as to escaped American slaves… A refreshing portrait of a talented human being complete with her accomplishments and disappointments." —
Arnold Anthony Schmidt
, author of
Byron and the Rhetoric of Italian Nationalism
---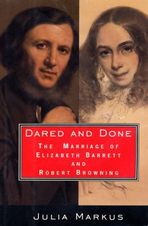 "A gift that keeps on giving - Truly one of the great love stories, their courtship, secret marriage, and creative partnership." USA Today

"Markus has brought the Brownings brilliantly to life...compulsively readable." The Cleveland Plain Dealer.

"A thrilling re-creation of an invalid's nightmare that becomes a lover's dream. A pleasure."

"Elizabeth Barrett was Part Black. Author Puts Famed Lover Back in Spotlight." Front Page News, Boston Globe and AP Wire.
---
"Markus is the rare kind of biographer who sees a human being as a web of relationships rather than as a hard kernel of selfhood transversing time and space." NY Times Book Review

"An ingenious biographical study of the actress Charlotte Cushman...and Jane Welsh Carllyle wife of the Victorian sage; both women of advanced savvy in radically different ways." Editor's Choice, New York Book Review

"What a gender bender this volume is..." The Washington Post Book World

"A splendid portrait..."Kirkus Reviews
---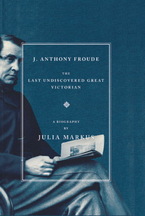 "The publication of this book is a major event in the history of biography..." Carl Rollyson, The New York Sun

"An Eminent Victorian and His Controversies...Julia Markus' account of his life...has a great deal to offer the general reader. It is rich in social and psychological insight." Wall Street Journal

"You pronounce his name Frood." Thomas Carlyle

All mention of Frowde
Is henceforth disallowed...
For he swears by the rood,
That his name is Froude.

Published in newspapers all through the United States during Froude's first visit.
---